NEW WORKS FOR SAXOPHONE & FLUTE ON FORTON MUSIC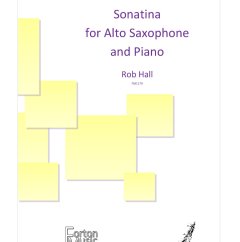 A new SONATINA FOR ALTO SAXOPHONE & PIANO and 15 FLUTE SCULPTURES for solo flute have been released on Forton Music.
Composer and saxophonist James Rae provides commentary for the Sonatina and writes in summary: "This energetic and highly attractive work has been skilfully crafted for both soloist and accompanist alike and will prove to be a welcome addition to the concert repertoire."

15 Flute Sculptures is a collection of solos for the beginner to intermediate flautist inspired by all things sculptural. There are three pieces at each level from grade 1 through to 5. The writing provides a range of approaches to flute playing which bring out the instrument's natural characteristics.
ESCAPES FOR PIANO AVAILABLE ON CLIFTON EDITION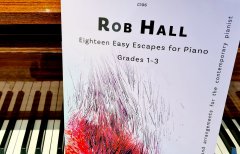 Rob's Escapes for Piano Series has been republished with Clifton Edition with distribution by Stainer & Bell. Eighteen Easy Escapes (ABRSM Grade 3 Piano /list B10) has been released in May 2023 with the other books coming shortly.
NEW TITLES ON TRINITY CLARINET SYLLABUS 2023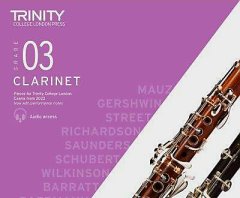 Leading music exam board Trinity College London have chosen 4 pieces from Full Speed Ahead (BrassWind) for their new Clarinet syllabus at Grades 1-3, including a solo piece March Hare which they have licensed for their own publication at Grade 3.
NEW WORKS FOR CLARINET & SAXOPHONE ON FORTON MUSIC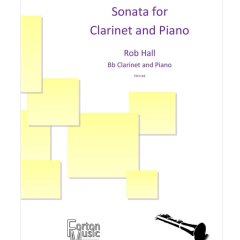 Rob's SONATA FOR CLARINET & PIANO is now out on Forton Music along with TOURAMA, a book of solos, duets and accompanied pieces for any saxophone type (Grades 1-4).
The Sonata was written during Rob's four years of music study in Manchester and was first performed by himself at the RNCM for his Professional Performance diploma recital. Two movements were recorded on their album Rhyme or Reason by Rob and pianist Chick Lyall in 2009.
The work is endorsed by the American clarinettist Jean Johnson who has provided detailed and insightful comments,
"I'm especially drawn in by the lush sonorities throughout this Sonata. I love the energy of the driving rhythms contrasted by long expressive lines, and the buoyant jazziness in the last movement makes this piece a delight to play." Jean Johnson - Clarinettist

SCOTTISH ARTS TRUST CONCERT VIDEO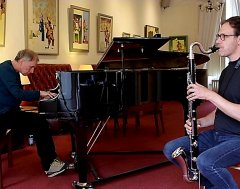 The Scottish Arts Trust promotes concerts of contemporary music, by Scottish and other important contemporary British composers.

ROB HALL Saxophones & Bass Clarinet CHICK LYALL Piano.

This exciting concert provides a premiere of seven new and varied compositions born during our recent enforced COVID lockdown, aptly demonstrating that spirit and creative enthusiasm remains very much alive and ascending! The Scottish Arts Trust is proud to support another of their excellent Concerts performed at the Scottish Arts Club in Edinburgh

Recorded August 2021 for Scottish Arts Trust.
Videography/Stills: Malena Persson | Sound: Andy Jeffcoat.

FULL SPEED AHEAD for CLARINET (Grades 1-3) out now on BRASSWIND PUBLICATIONS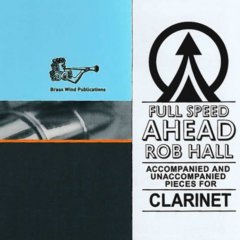 Full Speed Ahead for Clarinet has something for everyone, filled with 16 evocative pieces, some with accompaniment and some unaccompanied, that will take the player on a whirlwind journey around the globe and introduce different cultural flavours to inspire the imagination.

... Dawn Rise • New Day, New Town • Yin and Yang • Rangitoto Rag • Armenian Lullaby • Winter Palace • Penguin Parade • Mister Beat • Going Up? • Seven Hills Istanbul • Tempo di Mango • Jet Stream • March Hare • Paraglide • Takata-Taka-Takata • Journey's End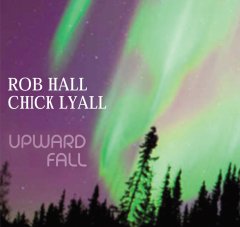 UPWARD FALL the new release from Rob Hall (saxophones, clarinet, EWI) and Chick Lyall (piano, keyboards, electronics) builds on musical paths explored in their previous release Chronicles with extensive use of multi-timbral electronics combined with an even wider range of single reeds and additional wind synthesizer. A more relaxed pace allows for expansive improvisations to develop with textures ranging from the intimate to the orchestral. Retaining their unique conversational language the duo weave their sonic tapestries through the animated, expressive and introspective.

New Composition for St Mary's Music School pays tribute to Steve Reich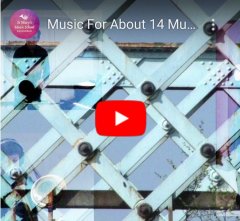 A new composition by composer and saxophonist Rob Hall, featuring photographic art by Susheila Jamieson and performed by junior instrumentalists at St Mary's Music School went live on Youtube today.

The work, entitled Music For About 14 Musicians, began as an exercise in style for a large ensemble class and built on Steve Reich's classical minimalist work Music for 18 Musicians. It features multiple violins, pianos, and assorted winds.

Rob Hall, who teaches clarinet and saxophone at St Mary's Music School and also leads the junior ensemble said "Work on the project began just before Easter but since the school was closed for the summer term, we moved online and put together a condensed version for video during lock-down in June 2020. Performers contributed their individual parts to the collective whole which was no easy task given the stringent distancing restrictions in place which prevented the group from meeting and rehearsing together. We were delighted when visual artist Susheila Jamieson agreed to be involved. I collaborated with her on a performance project in Edinburgh Jazz Festival some years ago and I felt her perceptive work would provide a supportive visual backdrop with the right aesthetic to compliment the music. "

St Mary's Music School Junior Ensemble
Conductor, project direction - Rob Hall
Visual artist - Susheila Jamieson
Audio editor - Rory Wilson
Video editor - Fiona Duncan



SHE MOVED THROUGH THE FAIR (arr. Hall) ABRSM Piano Grade 3 (2021-22)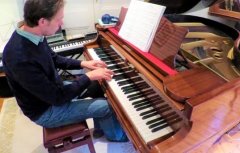 My recording of this timeless, haunting Irish song, an arrangement for piano listed in ABRSM Piano Grade 3 'practical' exams and the new video 'performance' syllabus from 2021. Taken from Eighteen Easy Escapes for Piano (Spartan Press) widely available now.
ESCAPES FOR PIANO SERIES (Spartan Press) 12 videos to sample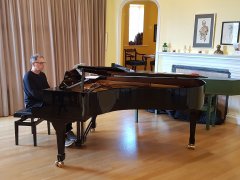 You can now watch videos of twelve pieces selected from the Escapes for Piano series on Spartan Press.
Filmed in an inspirational concert room setting in Edinburgh the performances were given by Scottish pianist Chick Lyall and Escapes composer Rob Hall.

Click on MORE INFO to discover all twelve videos.
EIGHTEEN EASY ESCAPES for Piano (Spartan Press SP1367)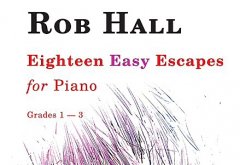 Original creations and arrangements for piano

(Grades 1-3)

Roll up your sleeves, pack your passport and get ready to escape to a whole world of new musical adventures imaginatively crafted by Escapes-series composer Rob Hall!

Through twelve colourful originals and six refreshing new arrangements of classic folk songs from around the globe, it's not only music you'll learn along the way, but a host of insights and facts around the inspiration for each piece.

With origins and ideas from New Zealand to New Orleans, Finland to France - including a five-part Nordic Scenes suite thread through the programme - there is truly something for all improving players in this wide-ranging, progressive piano collection with its enticing repertoire and new techniques to explore.
ASIAN TIGER PROWL (ABRSM Publishing)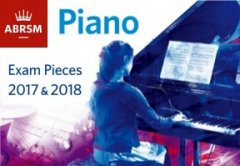 ASIAN TIGER PROWL

ABRSM GRADE 1 PIANO EXAM PIECES 2017-18 [LIST C1]

Commissioned by ABRSM for their ever popular internationally distributed piano exam anthologies, ASIAN TIGER PROWL is a short descriptive piece about a big cat hunting down its prey.
It is closely linked in tonality to one of the technical requirements at the grade, the D natural minor scale, known to jazz musicians as Aeolian mode. I traced the mode through its ancient Asia Minor roots over to northern India where a raga is based on the scale. Thats where the tiger made its presence felt in the conception of the work!

WORLDWIDE PUBLICATION 7 JULY 2016

Cover by Kate Benjamin and Andy Potts
© 2016 by The Associated Board of the Royal Schools of Music
Reproduced by kind permission.



ELEVEN MORE ESCAPES for Piano (Spartan Press SP1298)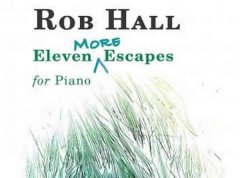 ELEVEN MORE ESCAPES FOR PIANO
Eleven More Escapes for Piano (Grades 3-5) both follows, and preceeds, the Eight Escapes for Piano... it 'follows' as the second book to be published, but 'preceeds' in terms of the level Grades 3-5
The pieces are contemporary in nature adopting a wide range of stylistic colours and approaches from the playful opener Twitter Feed to the evocative closing ballad Patience. Once again there is an inherently international flavour. Visit North America in Elk Dance, the shores of Kerala, India in Shifting Sands, and the banks of the Rhein in Antje's Wood. The more abstract White Dwarf I & II contrast in their sparsity and subtle use of over-ringing harmonics.
Available from all reputable music stores whether in the physical or virtual world.
EIGHT ESCAPES FOR PIANO (Spartan Press)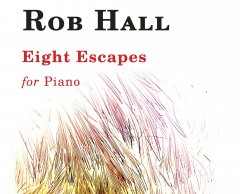 My first piano collection for Spartan Press.

The pieces are suitable for pianists of Grades 5-7 level with a wide range of moods and challenges from the cascading opener Lifts, Escalators and Extreme Travelators depicting a bustling Hong Kong, through the Edinburgh festival-funk of Cafe Graffiti and the whirling folk-infused Pied Piper, to an emotive epilogue Swan Song.

EIGHT ESCAPES IS ALSO AVAILABLE FOR DIGITAL DOWNLOAD FROM SPARTAN PRESS

"I'm a big fan of Rob Hall's music. His jazz style is open to other influences - classical and folk for example - and the blend is a potent one, creating music that is above all about feeling and character. His pieces are also very well written for the piano." (Steven Osborne, pianist)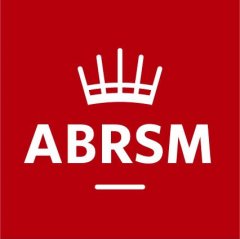 Following on from a varied 5 week examining tour to Indonesia which took in 4 cities on the island of Java, Rob will be touring the southern Indian states of Kerala and Tamil Nadu for the month of November 2015, both examining and working with local teachers.

In 2016 he will also be touring Arab States, Malaysia, Hong Kong and New Zealand.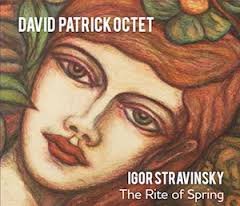 THE JAZZ RITES OF SPRING - GERMANY TOUR
DAVID PATRICK OCTET
Three wishes fulfilled in one go here - I am at last getting to play Stravinsky's 'beautiful nightmare' (with impro!); to visit Munich (despite many visits to Bavaria); and to play the renowned Unterfahrt Jazz Club in the city. It is a not undaunting task to be asked by pianist/arranger David Patrick to step into the instrument quadrupling shoes of rites regular Brian Molley but i'm up for the challenge!
20 March - Unterfahrt Munich
21 March - Jazz Keller Frankfurt
22 March Jewish Museum Frankfurt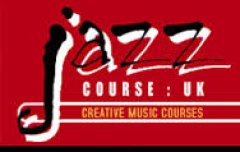 Rob has been producing, and playing on a recording at the Sound Cafe, Edinburgh with students attending the first Jazz Course UK Studio Recording Course. As a reflection of the hotly debated Scottish referendum taking place on 18 Sept 2014, the same week as the recording, Wayne Shorter's animated YES AND NO was added to the programme.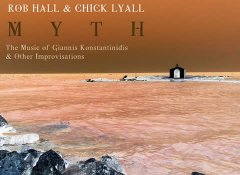 ROB HALL & CHICK LYALL
MYTH
The Music of Giannis Konstantinidis & Other Improvisation
FMR Records 2016
MYTH is the duo's fifth album release of the British FMR improvised music label. The programme is built around adaptations for Clarinets & Piano of twelve of the '44 Miniatures for Piano' by Greek composer Konstantinidis. Recorded in the resonant acoustics of the chapel of St Mary's Music School in Edinburgh, Rob and Chick weave their conversational improvisations around these memorable 'earworms', complimented by more exploratory repertoire built around mythological themes. Within days of its release Myth was aired on both national BBC radio 3 and BBC Scotland radio.
It is available for purchase or download from CD BABY.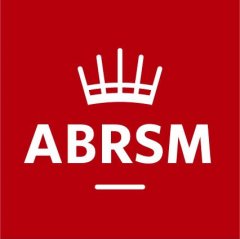 In 2014 Rob is undertaking 3 international examining tours in east and south east Asia with ABRSM. This includes around 12 weeks in Hong Kong and 6 weeks in Malaysia.
TOURAMA FOR SAXOPHONE Review CASS Magazine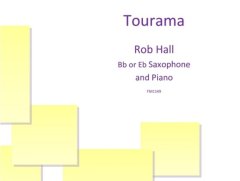 This repertoire book covers grades one to four through its 16 pieces, of which eight are with piano, six unaccompaniedand two are duets. The unaccompanied works and the duets provide a technical challenge which precedes anaccompanied piece. These are all short, fun and interesting character pieces, in a mix of familiar swing and funk grooves and other lesser-known styles. Eastern influences can be heard in La Giralda and Moormist. Pieces in folk style nod to wards Scotland in the jig of Scotsman Steps, and Ziveli!, a wild Serbian Dance. The regional influences can be felt without themusic being too cliched. Kevin Coldbrew is inspired by jazz pianistand composer Vince Guaraldi who composed music for Peanuts. That reference may be lost on the generation that the book is perhaps intended for but the style should be indentifable. Simon Says is an amusing duet with a twist at the end, which could be a great starter for a composition project! There is lots of detail within the music, all clearly carefully planned, from dynamics to articulation, and all of which further enhance the character of each piece. The music is carefully laid out and the saxophone part is provided with alternative piano transpositions for both E flat and B flat instruments.Stephanie Reeve
More info
Clarinet and Saxophone Society GB
April : 2023
18 EASY ESCAPES FOR PIANO Review Pianodao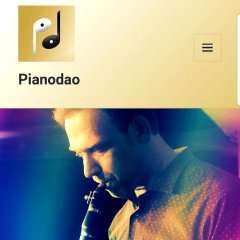 'Rob Hall shows an exceptional talent for capturing the essential spirit and atmosphere of the places and tunes he has chosen to present here, with original harmonic twists and simple open styles of writing.'18 Easy Escapes for Piano, published by Spartan Press (SP1367) offers 'Original creations and arrangements for the contemporary pianist' and is suitable for elementary players (UK Grades 1-3)…Discovering Rob Hall's Music...I first met Rob Hall as a fellow instrumental teacher of clarinet and saxophone back in the 1990's, when we both lived and worked in Cambridge. In more recent times, having enjoyed his Asian Tiger Prowl (set for ABRSM Grade 1 piano in 2017 – 18), I later got in touch to find out if he had published anything else at a similar level. I ordered Eighteen Easy Escapes but confess that I didn't get round to exploring it until this spring, and have taken several more months since then to realise my initial enthusiasm to write a review of this book, to bring its delights to the attention of others. The fact that one piece, She Moved Through the Fair is now set for grade 3 piano in the ABRSM 2021-2022 syllabus, has spurred me into writing this at last, as I feel for teachers and students exploring the alternative lists, (this year with no teaching notes) this article could be useful in telling them more about this book.Easy Escapes…Easy Escapes for Piano is a slim, easily portable volume, containing 12 one-page pieces and then 6 that cover a two-page spread. The pieces are in roughly progressive order. The print is clear on white paper.The publishers grading of grades 1 – 3 is largely accurate, although I would say that very few of the pieces are actually grade 1 level; the majority are grades 2-3, with a few feeling more like grade 3½ by current exam board standards!The music would appeal to all ages, and whilst it is accessible for lower grade players, it would also be very attractive to players of grade 5 ability looking for inspiring sight-reading or quick study pieces: something to enjoy playing through for pleasure or as an escape from their more advanced practice.The wide variety of styles and themes could be seen as a bit random, but in my view adds to the 'escape' nature of the book, as you have no idea where you are heading next as you turn the page!As a keen folk musician myself (usually on flute, recorders or whistles) I love the inclusion of folk inspired pieces that I can actually play as part of a traditional folk session.Really tasteful, appealing and accessible arrangements such as these can be hard to come by at this level. Bartok, Britten and Vaughan Williams all come to mind as past composers who have explored the depth and vitality of this genre, and Rob Hall's arrangements and folk imbued original compositions are a most welcome contemporary contribution to this field.Inspiration for the music has its origins in the Nordic lands of Scandinavia, Scotland, Ireland, New Zealand, New Orleans USA, France, and the Jewish-Sephardic community from Spain.Rob's passion for jazz shows through in pieces 13 and 16; Noël Nouvelet effectively conveys the tune's 15th century roots along with some chilly wintry dissonances in the harmony.Conclusion...Rob Hall shows an exceptional talent for capturing the essential spirit and atmosphere of the places and tunes he has chosen to present here, with original harmonic twists and simple open styles of writing. All the tunes are heartfelt, original and evocative. If you enjoy some escapist travels from the comfort of your own piano stool, I can highly recommend giving these a try!There are also two more volumes in this series also published by Spartan Press:Eight Escapes for Piano SP1227 (Grade 5 – 7)Eleven MORE Escapes for Piano SP1298 (Grade 3 – 5)Dawn Wakefield is an experienced teacher of piano, flute, recorders and Balkan Dancing, based in North Norfolk. www.dawnwakefieldmusic.com She also works as a proofreader.
More info
Dawn Wakefield - Pianodao
September : 2020
MYTH Rob Hall and Chick Lyall (FMR)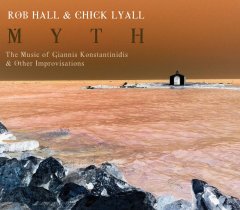 SUBTITLED "The Music of Giannis Konstantinidis & Other Improvisations", this fifth album from one of the Scottish jazz scene's most enduring partnerships finds Rob Hall forsaking the saxophone family in favour of E flat, B flat and bass clarinets in a series of miniatures that draw on Greek mythology as well as the Turkish-born Konstantinidis's concisely expressive melodies for inspiration.
The opening, improvised, Three Views of Hades duets are by no means always as dark as the generic title might suggest, with Lyall's bright sense of enquiry and often percussive touch at the piano bringing out the humour in Hall's playing, and Hall's solo bass clarinet improvisations capture gently mirthful, suitably equine characteristics in The Horses of Helios.
Konstantinidis' writing is at the album's heart, however, forming a twelve-part central suite that roams from the plaintive and solemn to the soulfully vivacious, and finds Lyall at his expansive, exploratory best as both accompanist and improviser on Miniature No XLll with its beautifully yearning melody.
The Herald
October : 2016
CHRONICLES Rob Hall and Chick Lyall (FMR)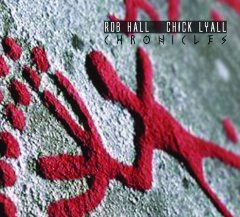 Pianist Chick Lyall and multi-reeds specialist Rob Hall form one of the most intriguing partnerships on the Scottish, and indeed the European, jazz scene. Their improvisations fall not a million miles from either the great Devonian John Surman's blurring of the folk-jazz fault lines or the kind of musical conversations Joe Zawinul and Wayne Shorter used to have in Weather Report, and yet they have also created a sound and style very much of their own.

This latest collection has been in danger of disappearing amid the continuing splurge of new jazz releases but it deserves to be heard for its wit as well as the duo's ability to conjure strong images in the shortest time. Only two of these 24 quietly masterful musical studies exceed three minutes and their titles (such as the Languido opening movement of their five-part Atina Suite) often set the scene very aptly for Lyall's piano and electric keys to prowl and strut under Hall's lugubrious bass clarinet or playful soprano saxophone.
Sunday Herald
June : 2014
THE BEATEN PATH Rob Hall and Chick Lyall (FMR)
Saxophonist Rob Hall has carved out a notable niche in both performance and education since moving to Scotland a few years back, while pianist Chick Lyall has been a creative force on the Scottish jazz scene since the late 1980s. This refined duo outing reflects the work they have been doing together over the past couple of years, and both players contributed compositions to the session, drawing on influences from their work in classical and - to a lesser extent - Celtic music contexts as well as jazz. The result is a series of beautifully constructed and cleanly articulated pieces that are notably atmospheric and evocative, to the point of verging on being classed as tone poems at times. These formal compositions are linked by occasional brief freely improvised interludes. Hall's use of four different saxophones adds variety to the sonic palette, and both players are able to find their space in the music with impeccable taste and discrimination.
The Scotsman
December : 2005