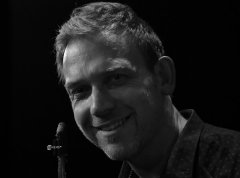 ROB HALL

Saxophonist, clarinettist and composer Rob Hall has forged a highly individual path in contemporary music consistently producing engaging, expressive and exploratory work that straddles genres.

Born in 1969 into a musical European family - his German mother was a professional recorder soloist and his English father an organist and choral director with professional singing experience - he was raised in Kent where he took up recorder, piano and clarinet, and later in Essex where he added classical guitar. After a four year period playing clarinet with the Essex Youth Orchestra he went on to study classical music and performance at Manchester University and the Royal Northern College of Music jointly, gaining a degree and two diplomas.

It was here that Rob's interests in contemporary  music and composition began to flourish, whilst studying clarinet with John Reynolds, composition with Geoff Poole and jazz saxophone with Gary Cox. In his first term his carol Christe Redemptor Omnium won a competition judged by Scottish composer James MacMillan. He then twice received the Proctor-Gregg Composition Award as well as a Terence Greaves Award for Big Band Writing. 

He continued his studies for one year as a scholarship student at Berklee College of Music in the USA, where he became a part-time tutor in music harmony before returning to the UK.

Tours, performances, recordings and broadcasts both radio and television, have taken him across the UK from Shetland to Penzance, and abroad to countries in four continents.

Rob has appeared on recordings and performances with artists such as Kenny Wheeler, Mike Stern, Dan Gottlieb, Matthew Herbert, Phil Cunningham, Aidan O'Rourke, Simon Thoumire, Anne Martin, Roddy Woomble, Chick Lyall, Philipp van Endert, David Patrick Octet, Steven Osborne, BBC Scottish Symphony Orchestra, Scottish Ballet, Paragon Ensemble Scotland, Manchester Camerata and many others. Festival appearances include Edinburgh International and Jazz festivals, Bath, Cheltenham, Celtic Connections, Prague International, BBC Proms as well as being a featured artist at Liverpool Jazz Festival, the Highland Festival, and Glastonbury Jazz Stage.

Rob's own CD releases are on the FMR contemporary music label. His debut CD Open Up in 1997, featuring guitarist Jim Mullen, attracted much attention and excellent reviews. A second CD Heading North with his London based touring quartet followed just months later and preceded his own move to Scotland a year later. In 2001 Rob was commissioned as both composer and performer by the Highland Festival to collaborate on a performance piece A Highland Canvas with visual artists John McGeogh (video) and James Hawkins (artist). This multi-media project received support from the Royal Scottish Conservatoire (formerly RSAMD) as did Rob's 3rd FMR recording Free-world Music with his experimental quartet Freewheelers, released in July 2002.

2005 saw the release of The Beaten Path with what has developed into a longstanding and fruitful duo collaboration with Scottish pianist and composer Chick Lyall with a second CD Rhyme or Reason released in 2009 backed by Creative Scotland (formerly Scottish Arts Council).

2010 saw the premiere of Borderland a large scale commission for big band. In 2011 Scottish Jazz Expo promoted Rob Hall & Chick Lyall internationally at jazz festivals in Italy and Edinburgh where they released their 3rd CD together Blithe Spirit. The Vine & the Fig Tree commissioned by the Devon based choral group eXe Singers premiered on Remembrance Day in Nov 2011.

Chronicles by Rob Hall & Chick Lyall was released in Aug 2013 introducing live electronics and bass clarinet into the duo's compass, and the pair followed this by returning to an acoustic piano & clarinets album Myth in 2016 featuring a suite of 12 miniatures by the Greek composer Giannis Konstantinidis.

Broadcasts, both recorded and live, have included BBC Radio2, BBC Radio3, JazzFM, BBC Scotland & BBC TV.

Rob has been at the forefront of the UK gospel music scene, regularly performing and recording in major venues such as Usher Hall Edinburgh and Waterfront Belfast. He has appeared with Praise Gathering, New Scottish Arts, Keith & Christine Getty, Dave Pope, Graham Kendrick, Gamu Nenghu, Beverley Trotman, Onaje Jefferson and he has contributed session work on recordings and for producers such as Graeme Duffin.

An active composer, he has written music and undertaken commissions for large and small ensembles and solo works both in classical and jazz genres with many performances and recordings. These include works for choirs, chamber orchestra, jazz orchestra, and numerous compositions for small jazz ensembles. His music has been performed in such venues as London's Royal Festival Hall and the Barbican , Glasgow Royal Concert Hall and RNCM Concert Hall Manchester.

Spartan Press published Rob's first book Eight Escapes for Piano in 2015 with a follow up Eleven MORE Escapes for Piano in 2016 and Eighteeen Easy Escapes completed the series in 2017.

A commission from ABRSM received worldwide publication in 2016 as part of their Grade 1 piano syllabus in ABRSM Piano Exam Pieces 2017-18 selling over 140,000 copies.

As an educator Rob has extensive teaching and facilitating experience with all sectors from Primary level through to Higher and Adult education. His tireless commitment to jazz education over more than two decades has benefited hundreds of aspiring and professional musicians. He is the founder of the national company Jazz Course UK and manages his own education venue The Music Workshop in south Scotland.

He teaches saxophone, clarinet and improvisation at two of Scotland's leading independent schools, St Mary's Music School in Edinburgh and Dollar Academy. Past positions have included Assistant Harmony Tutor at Berklee College of Music USA, Jazz Improvisation Lecturer at the Royal Scottish Conservatoire and Artist in Residence with WEA Scotland.

As an ABRSM examiner (Jazz & Classical) Rob has toured extensively in the UK, Ireland, Hong Kong, Malaysia, Indonesia, India, Arab States, New Zealand, Turkey & China. He has adjudicated for festivals and schools in both jazz and classical genres, acted as specialist examiner at the RCS and presented CPD training courses for many music organisations.

Directing experience includes Glasgow City Big Band, Biggar Big Band, RSAMD Improvisation Ensemble & ICE Youth Theatre (Lanark).

Rob plays Sopranino, Soprano, Alto, Tenor, Baritone saxophones, Bb, A, Eb, Bass clarinets, EWI wind synthesiser and Piano.

He lives in Scotland with his wife Abi and their three children.